Sold Specimens, Gallery R
Galleries of Sold Specimens:
A B C D E F G H I J K L M N O P Q R S T U V W XY Z
Agates Sold Calcites Sold Mont St-Hilaire Sold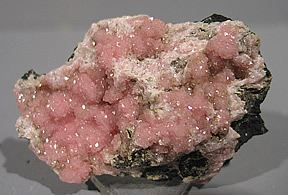 click on image for larger view
RH5-8 Rhodochrosite $24 SOLD

Santa Eulalia, Chihuahua, Mexico

5.5 cm x 3.5 cm x 2 cm
Mounds of sparkling pink Rhodochrosite MnCO3 crystals on a piece of black, manganese-rich matrix.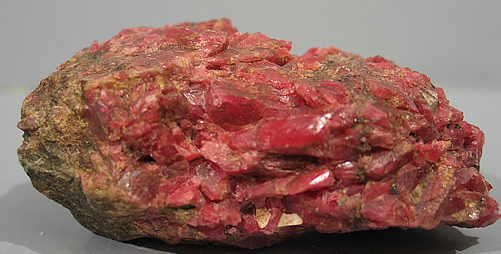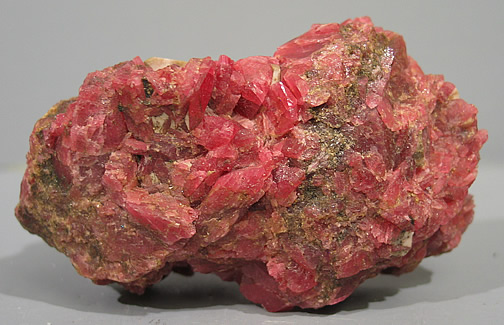 click on image for larger view
RHN5-1 Rhodonite $135 SOLD

Conselheiro Lafaiete, Minas Gerais, Brazil

9 cm x 5.3 cm x 3.7 cm
The recent find of Rhodonite (MnSiO3) from Conselheiro Lafaiete was a one-time occurrence. The bright red Rhodonite was available in some bladed thumbnails, miniatures and a few larger masses such as this one. If you are looking to add color to your display cabinet, this one is for you.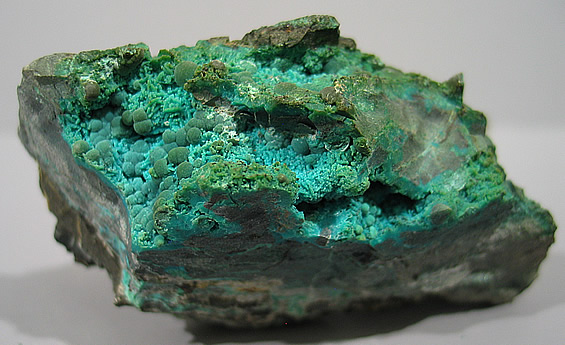 close-up of Rosasite balls & pseudomorphs of azurite blades - click on image for larger view
CHRY5-7 Rosasite with Chrysocolla pseudomorph of Rosasite & Azurite $40 SOLD

Bagdad, Eureka District, Yavapai Co. Arizona

9.7 cm x 3.3 cm x 5.5 cm
A wonderfully complex mixture of large bluish-green Rosasite ((Cu,Zn)2[(OH)2|CO3]) balls and sharp, blue-bladed pseudomorphs of Chrysocolla after Rosasite and Azurite. Also present is gray Tennantite in the massive matrix and on the bottom face. An Arizona classic for locality collectors or lovers of pseudomorphs. I also have some smaller and less expensive specimens from the same locality - inquire if interested.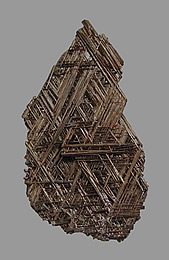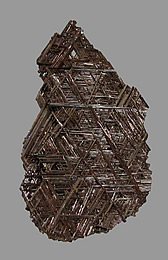 click on image for larger view


RUT8-1 Rutile $125 SOLD

Diamantina, Minas Gerais, Brazil

5.2 cm x 2.8 cm x 0.4 cm
Purely needles of Rutile (TiO2), piled next to and on top of each other, oriented in parallel sheets or at angles of 60°. One of the most distinctive Rutiles I have ever seen.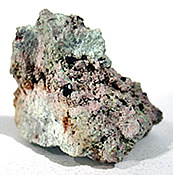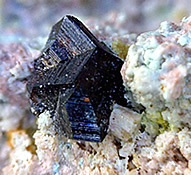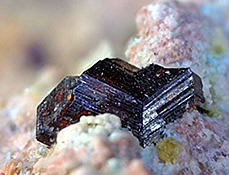 click on images for larger views image on right is 3 x 2.3 mm

RUT9-11 Rutile (Cyclic Twins) $29 SOLD

Tucumana Mine, Inca de Oro, Chañaral Province,
Atacama Region, Chile

3.0 cm x 2.7 cm x 3.5 cm
Partial cyclic twins of Rutile (TiO2) are scattered on the front of this specimen. The photo on the right shows the repeated chevron on the outer edge that is characteristic of a cyclic twin. The back of the specimen has some small, dark, embedded shapes that are purported to be Tourmaline, but I haven't dug any of them out to see.

Galleries of Sold Specimens:
A B C D E F G H I J K L M N O P Q R S T U V W XY Z
Agates Sold Calcites Sold Mont St-Hilaire Sold