Sold Specimens, Gallery W
Galleries of Sold Specimens:
A B C D E F G H I J K L M N O P Q R S T U V W XY Z
Agates Sold Calcites Sold Mont St-Hilaire Sold

NOTE: Wulfenite from Mont St-Hilaire
has been moved to Mont St-Hilaire Sold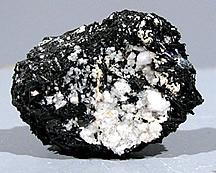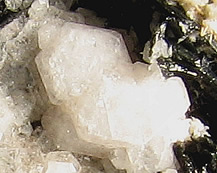 click on left image for larger view image on right is 5 x 7mm
WAD5-2 Wadeite on Aegerine $38 SOLD
Eveslogchorr Mt, Khibiny Massif, Kola Peninsula
Murmanskaja Oblast', Northern Region, Russia
4.1 cm x 3.1 cm x 2.3 cm; size of largest crystal ~ 4 mm
Pale hexagonal crystals of Wadeite, K2Zr[Si3O9] are sprinkled upon a nest of black Aegerine needles, NaFe3+[Si2O6].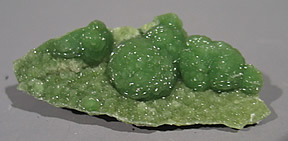 click on image for larger view
WAV5-23 Wavellite $18 SOLD
Mauldin Mt., Montgomery County, Arkansas
4.8 cm x 2 cm x 2.5 cm
Great color and exceptional sparkle for an Arkansas Wavellite. The large ball of Wavellite Al3[(OH,F)3|(PO4)2] · 5H2O in the middle is 1.2 cm wide.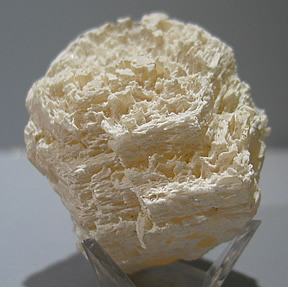 click on image for larger view
WTH6-1 Witherite $48 SOLD

Nentsberry Haggs Mine, Alston Moor District,
North Pennines, Cumbria, England, UK

5 cm x 5 cm x 4.5 cm
A relatively large and complex crystal of Witherite BaCO3 from a famous English locality.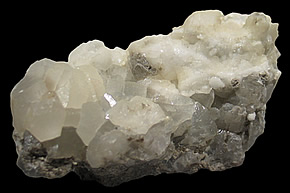 ordinary light click on image for larger view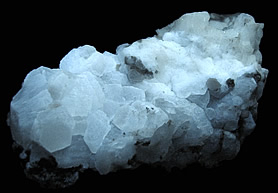 SWUV click on image for larger view

WITH8-1 Witherite $40 SOLD
Cave-in-Rock Sub-District, IL-KY Fluorspar District, Hardin Co., IL
9 x 4.5 x 5 cm
Translucent barrel-shaped Witherites (BaCO3) occupy half the specimen and encompass some opaque white material on the other half, but all of it fluoresces quite well under SWUV.


click on image for larger view
WLF5-14 Wulfenite and Mimetite $20 SOLD

Ojuela Mine, Mapimi, Mexico

6.5 cm x 3 cm x 3.5 cm
Rectangular yellow Wulfenites (Pb[MoO4]) up to 4-5 mm amidst pretty green balls of Mimetite (Pb5[Cl|(AsO4)3]) on a limonite matrix. I believe that this find occurred in 2003. The Mimetites fluoresce yellow under LWUV. A colorful and sparkly specimen.

Galleries of Sold Specimens:
A B C D E F G H I J K L M N O P Q R S T U V W XY Z
Agates Sold Calcites Sold Mont St-Hilaire Sold