West Coast Mineral Show
May 2010, Pomona
page 1 of 3



This is not a complete show report, sorry. But here are some reasons you should have attended the 2010 Pomona Gem & Mineral Show . . . .



Luiz Menezes (http://luizmenezes.com.br/english) had some fascinating Quartz pseudomorphs of Anhydrite with tiny Calcites on the top edges. I'm guessing the locality for these is in Rio Grande do Sul, Brazil. He had all sizes & prices.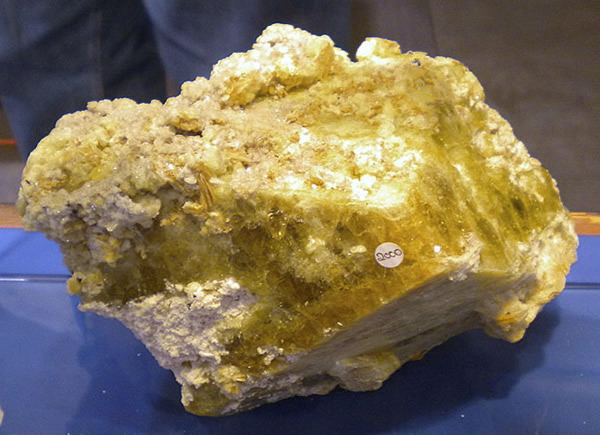 This awesome Brazilianite is the biggest I have ever seen, 19x13 cm. My photograph does not do it justice.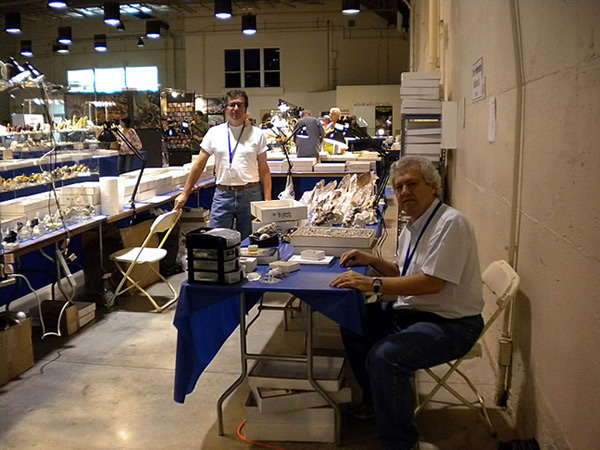 Luiz (seated) and Carlos Menezes are always working hard. Luiz brought a new book about Brazilian minerals that he helped to research & write. He will have copies for sale at the East Coast show.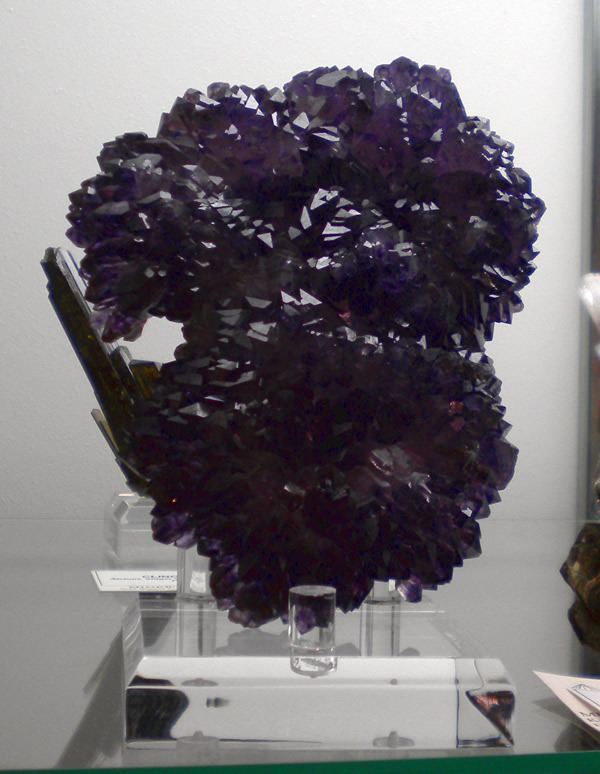 My favorite specimen from Miner's Lunchbox (http://minerslunchbox.com), a large-cabinet-sized Amethyst from Tamil Nadu, India, sold during the show, but I think Scott Werschky has others.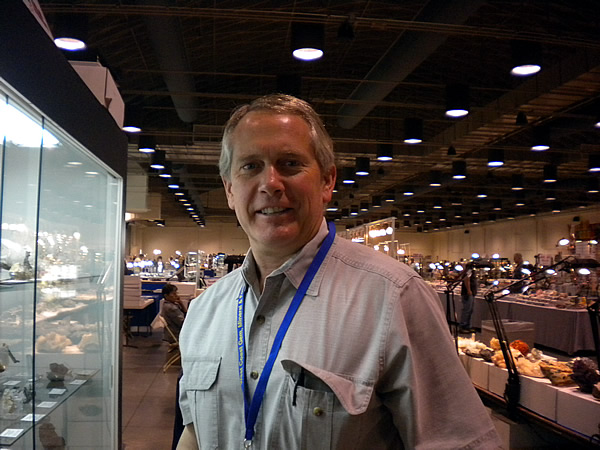 Scott Werschky from Miner's Lunchbox. This photo also shows about how large the hall was.

I've never seen a Prospect Park Prehnite so thick. It caught my eye right away at XTAL's (http://xtal-dbeals.com) booth. The color is much better than my little Coolpix camera could reproduce.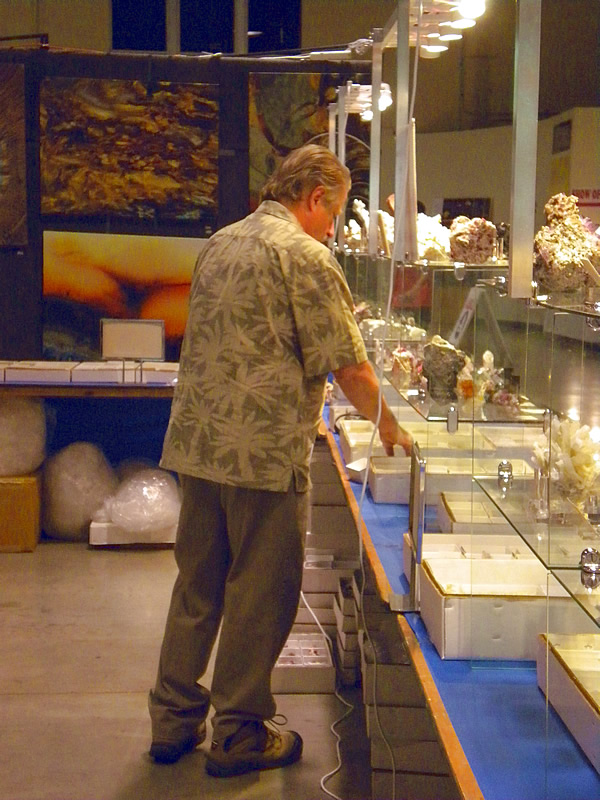 Dennis Beals (XTAL) said to take his photo when he wasn't looking, so....

A typical amazing specimen from Alfredo Petrov (alfredo@mindat.org) - Povondraite, one of the rarest Tourmalines.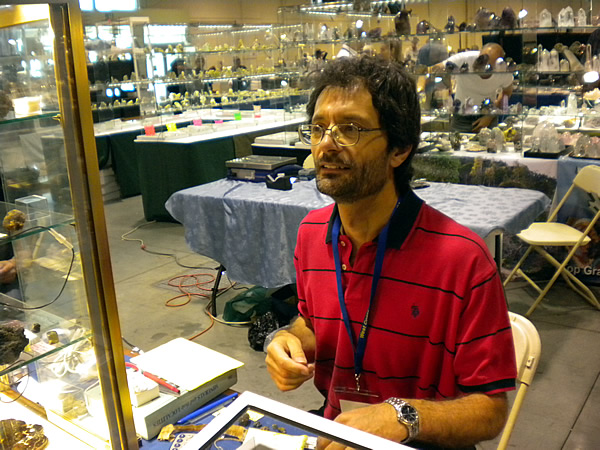 Alfredo Petrov, discussing the wonderful features of rare minerals.

This museum-sized Adamite from the Ojuela mine that Cal Graeber (cal@calgraeber.com) brought to the show took my breath away.

Isaias Casanova of IC Minerals (http://www.icminerals.com) had a beautiful small cabinet Bultfonteinite.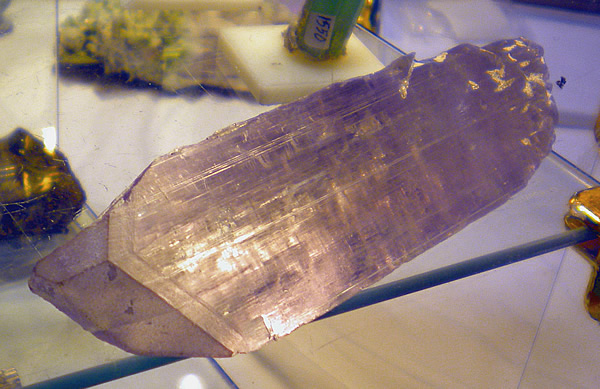 This Kunzite at Freedom Valley Gems (freedom-v-gems@hotmail.com) had the most unusual step-type modified termination at its top (the left, in the photo) that I've ever seen on a Kunzite.

Ali Baigzad of Freedom Valley Gems with a plate of gem rough.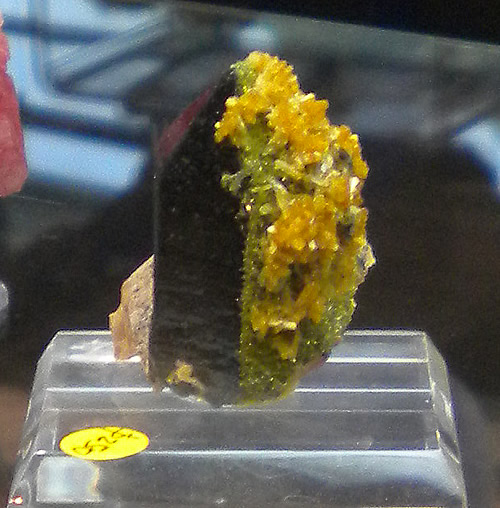 Wendy's Minerals (zy687088@hotmail.com) had this interesting and colorful miniature from a new find in China, consisting of Stilbite on Epidote on Smoky Quartz on Feldspar. It is practically an entire mineral collection in one extremely intringuing piece.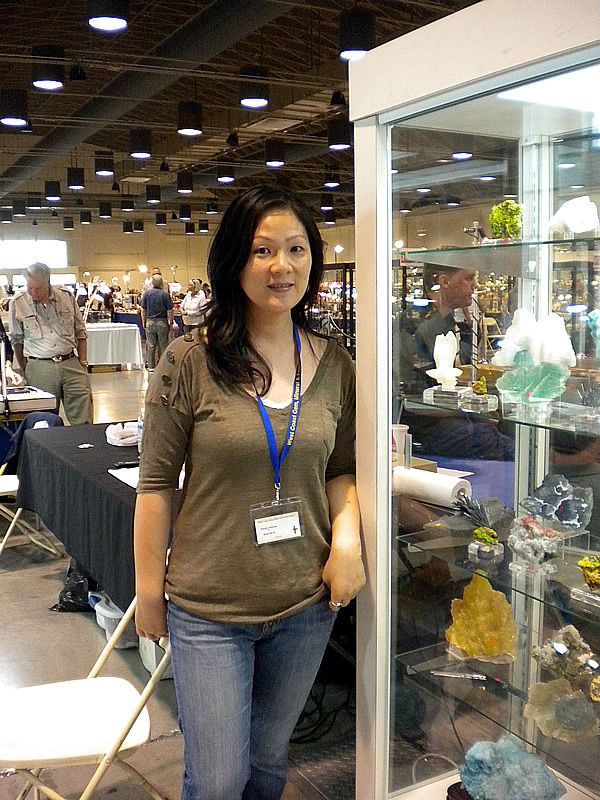 Wendy of Wendy's Minerals.

I covet this bizarre Iranian Smithsonite nodule. It looks completely edible like a piece of fruit. Dave Bunk (http://davebunkminerals.com) had it for sale in his display cabinet.

And here is Dave Bunk, relaxing next to his cabinet.