Kyoto, Japan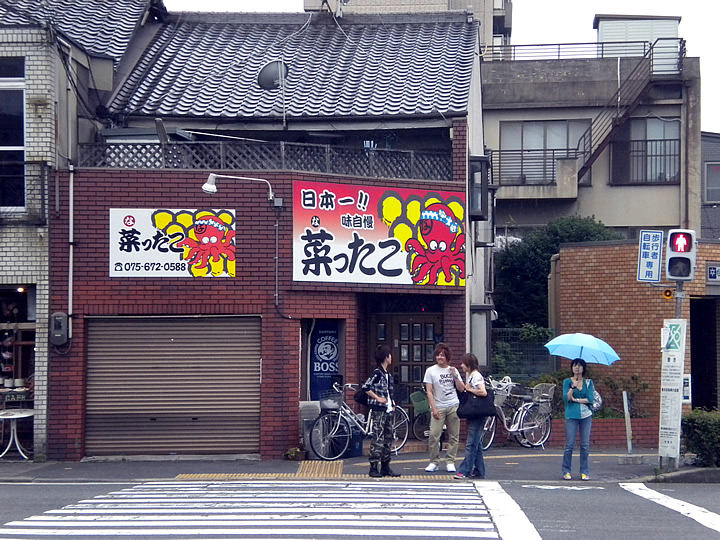 A street corner near Sparkling Dolphins Inn. It's another rainy day, but most of the time it just drizzles. The signs are advertising a local specialty, tako-yaki, which are deep-fried octopus dumplings - quite yummy! Bicyclists adapt to the rain, holding an umbrella as they ride. I even saw one boy holding his umbrella in one hand, a book in the other, steering his bike with his forearms and reading as he rode an obviously familiar route!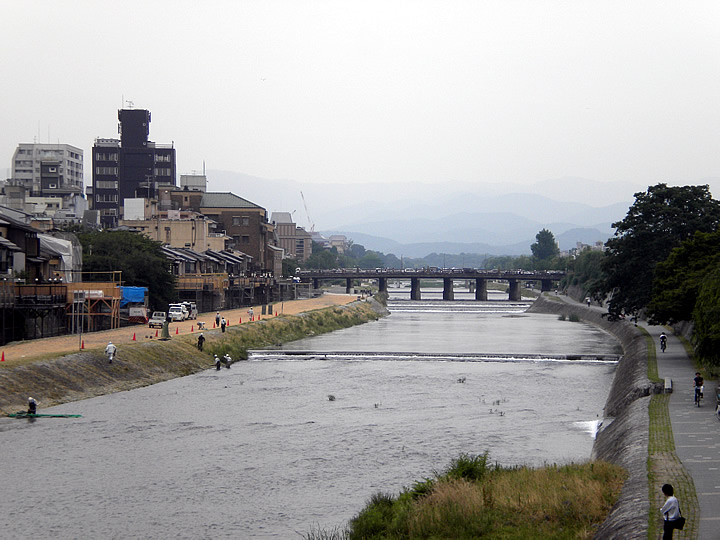 A bridge over the Kamogawa, which I've read means "Wild-Duck River", and which cuts right through central Kyoto. Notice the layers of hills in the background.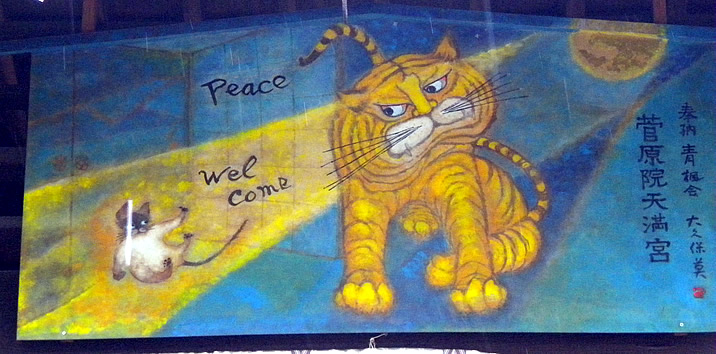 A sign over a temple entrance.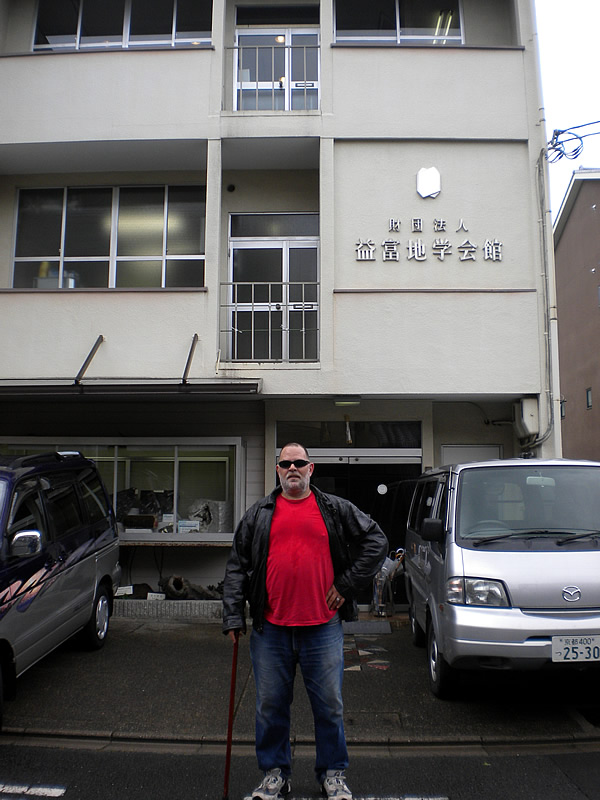 Russ standing in front of the Masutomi Geology Museum. Note Carlsbad twin feldspar emblem on museum. This museum is only open on the weekends, and I suspect it is closed during the Osaka (in April) and Kyoto (in October) mineral shows, since the museum people are busy supporting those shows. They also do field trips.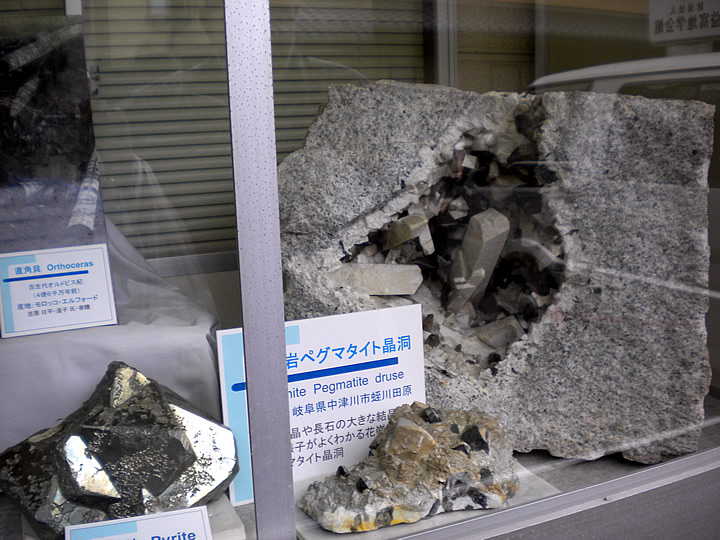 The outside window case has a fine feldspar & smoky quartz vug in an aplite dike from a Japanese locality. The museum has a new publication (mostly in Japanese, but there are maps and English translations of the locality names) showing field collecting spots in Japan. I bought a copy, of course! I figure I can always use the book to ask my questions for me by opening it to the relevant page, showing it to a helpful resident & looking befuddled! (I can hear my son saying, "How is that different from the way you always look?")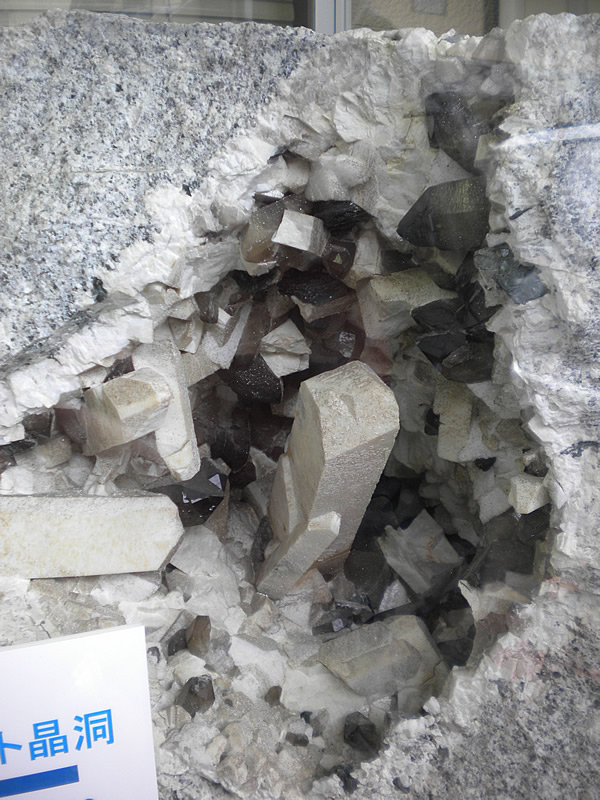 A close-up of the feldspar and smoky quartz vug. Smudges are from Russ drooling over this specimen.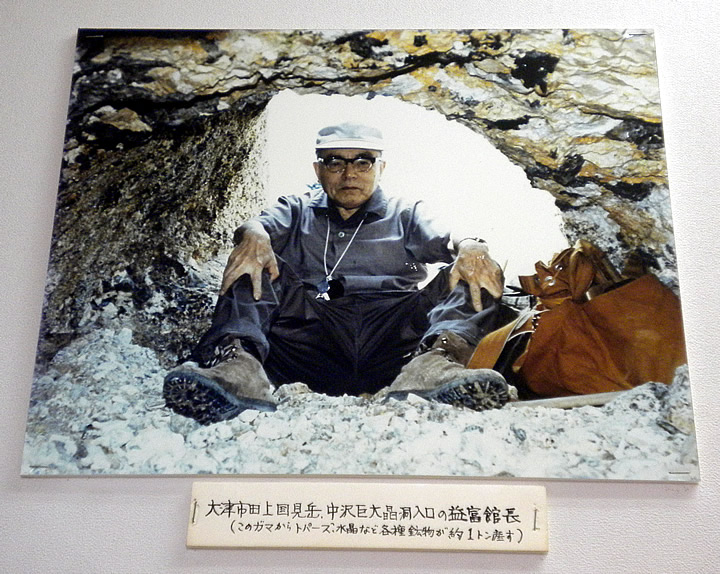 Here is a photo of the founder of this museum, Mr. Masutomi, obviously most comfortable in his chosen element.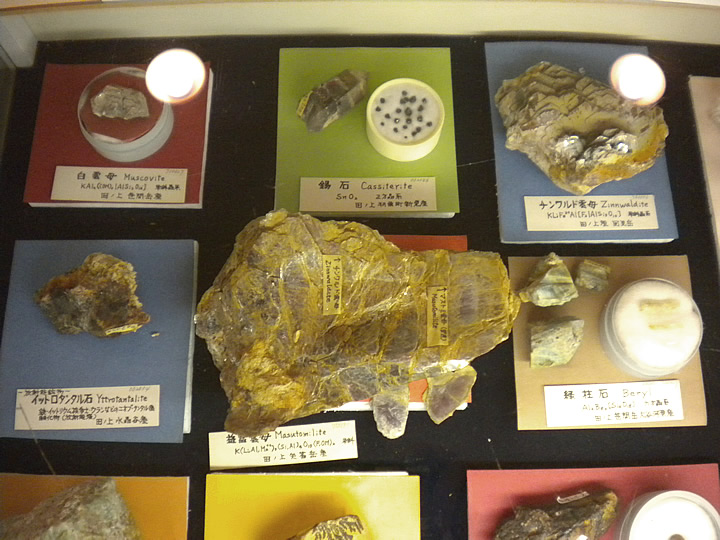 In the middle of this case is the mineral, Masutomilite, named after the museum's founder.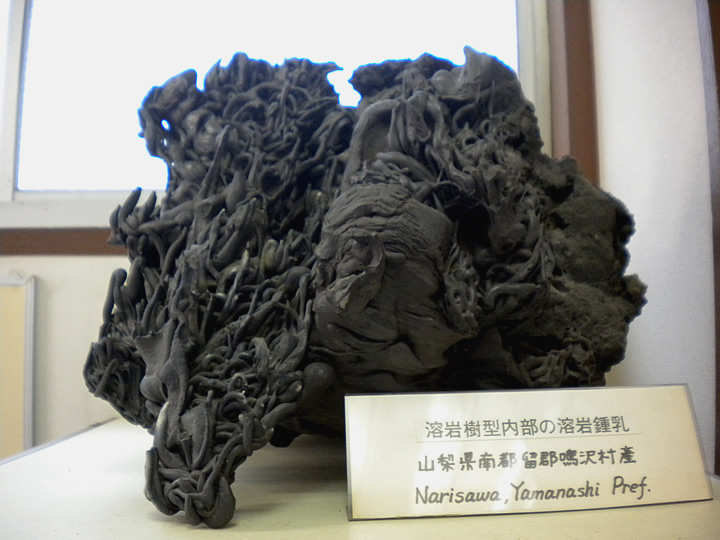 Although many of the minerals are rarities, there are also items of interest to non-specialists, such as this ropey mass of volcanic lava, probably ejected as a volcanic "bomb". Our friend Alfredo transports many such pieces to far-flung mineral shows, but he saves his piquant jokes about bringing "bombs" onto the aircraft until he is a goodly distance from the airport and airport security. Touché, Alfredo!


A synthetic pink sapphire. I will show here some of the items of general interest in the Masutomi Geology Museum and save the so-called "ugly rarities" (which I dearly love) for a separate page, to be accessed below.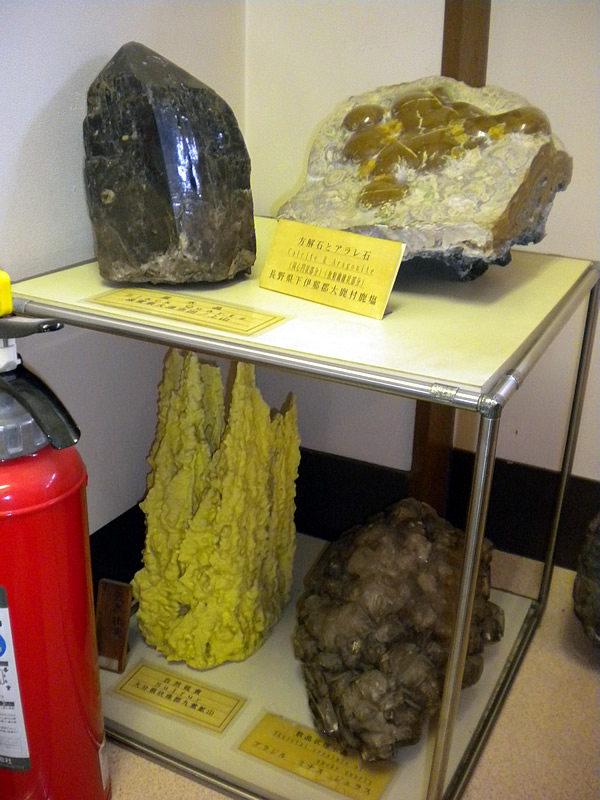 Rocks sit everywhere. Here a beautiful stalactitic sulfur shares space on the stairway with a fire extinguisher!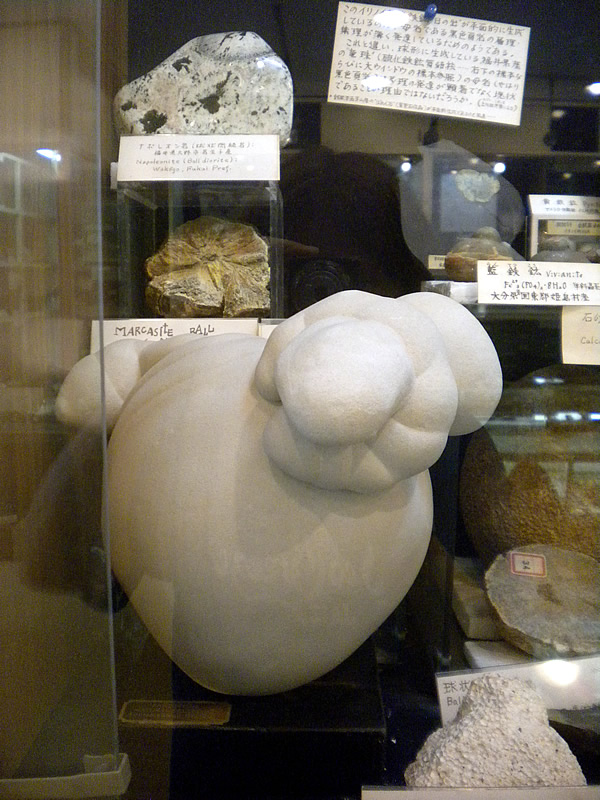 A case of nodule-formed minerals. The large one is (if my memory serves me) a sand-included calcite from Fontainebleau, France. I am partial to nodules, having a subcollection of them, so here come more photos.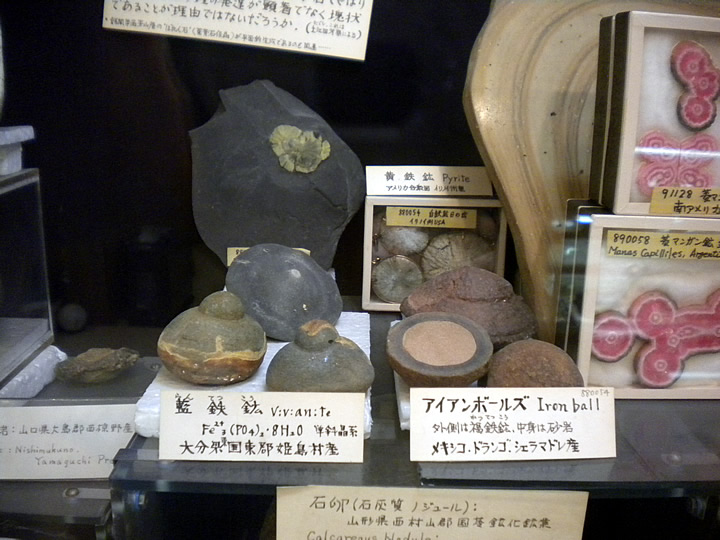 A better view of the upper left of the case.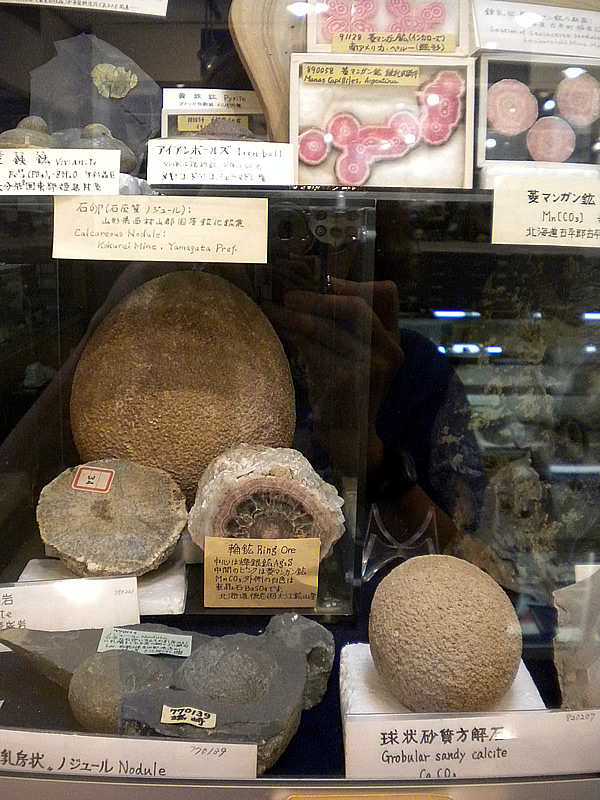 As promised, more nodules. Note the fascinating slices of layered pink rhodochrosite stalactites at the top.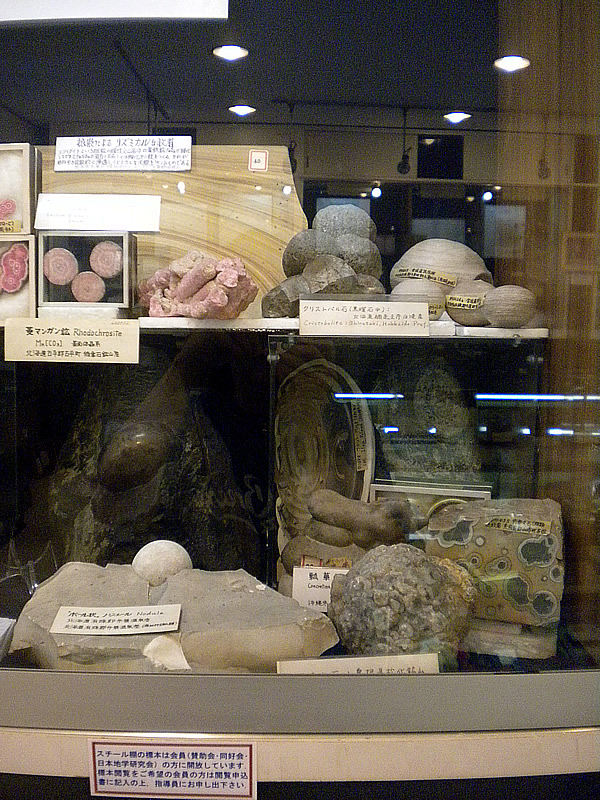 Nodules and more nodules! The right side of the case.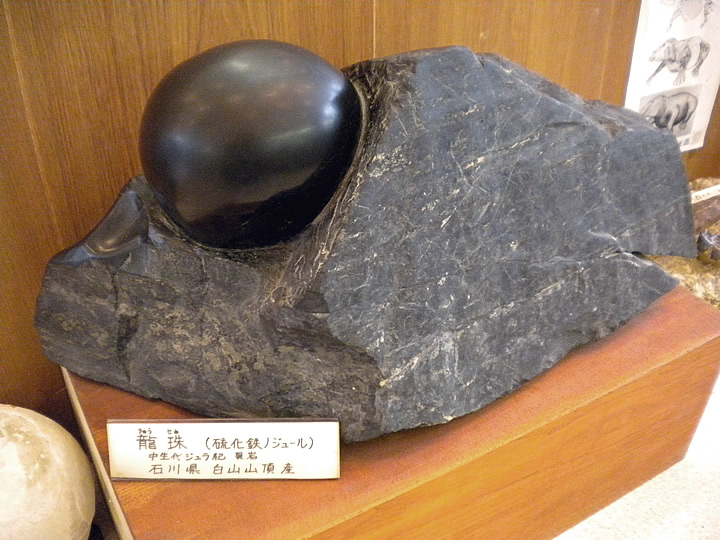 This is one of the few items that does not have an English translation. Doesn't matter - it looks like a nodule.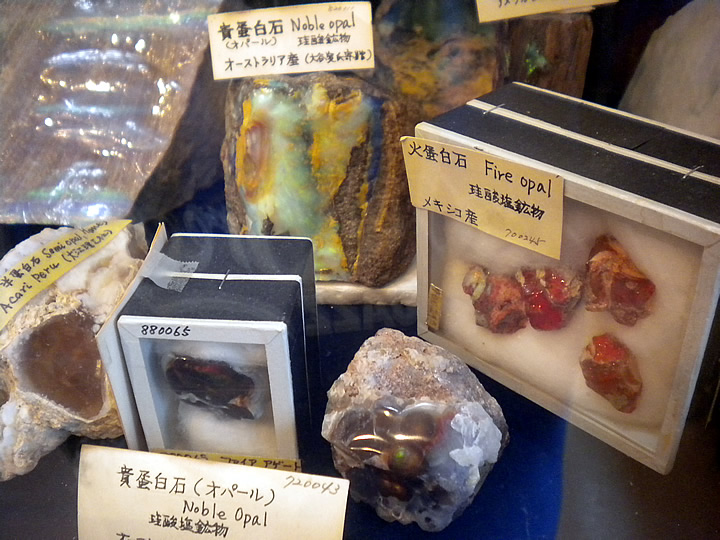 One case contained various sorts of opal.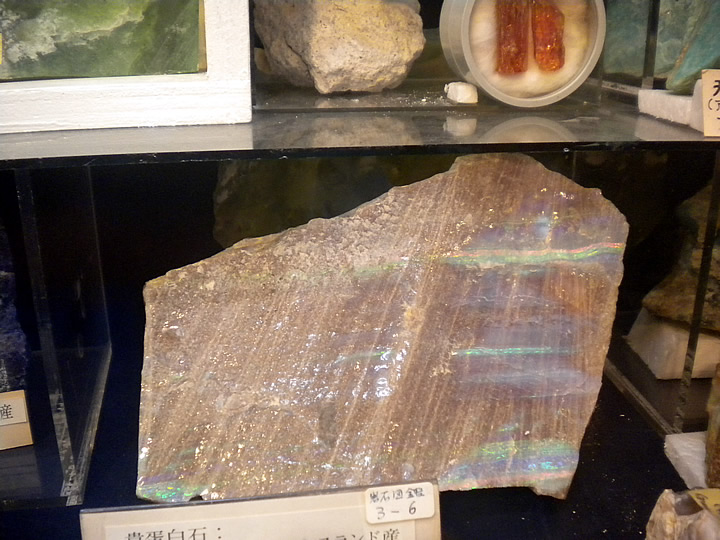 More iridescent opal.

Uh, can you guess that I like opal?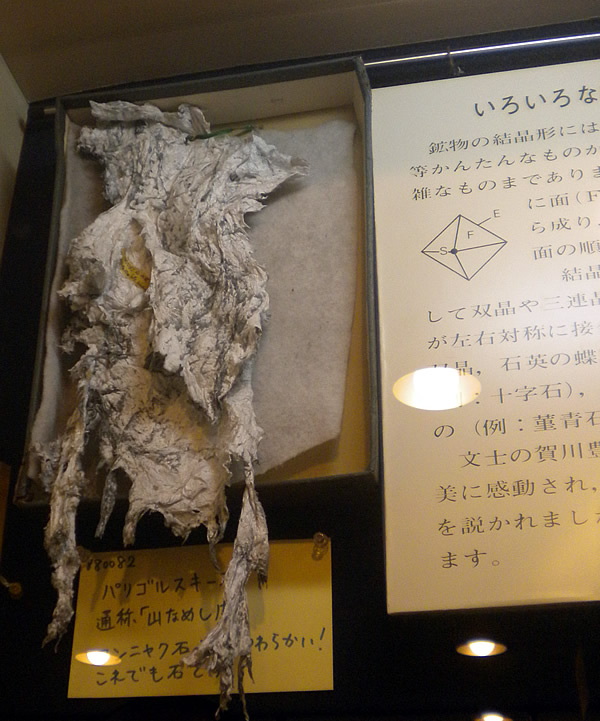 Although this looks like a freeze-dried chicken, it is a fibrous mineral called palygorskite, affectionately known as "mountain leather". Notice a diagram on the adjoining placard - much of the museum is set up to inform.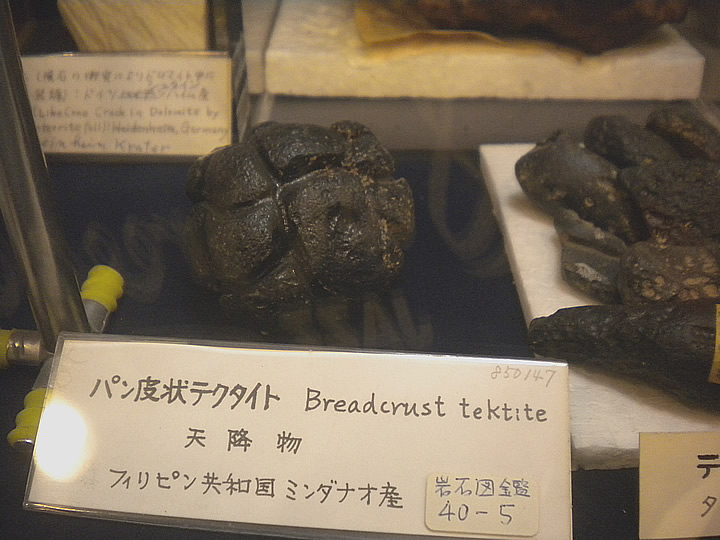 Tektites are a natural glass formed from meteorite impact melting the local rock.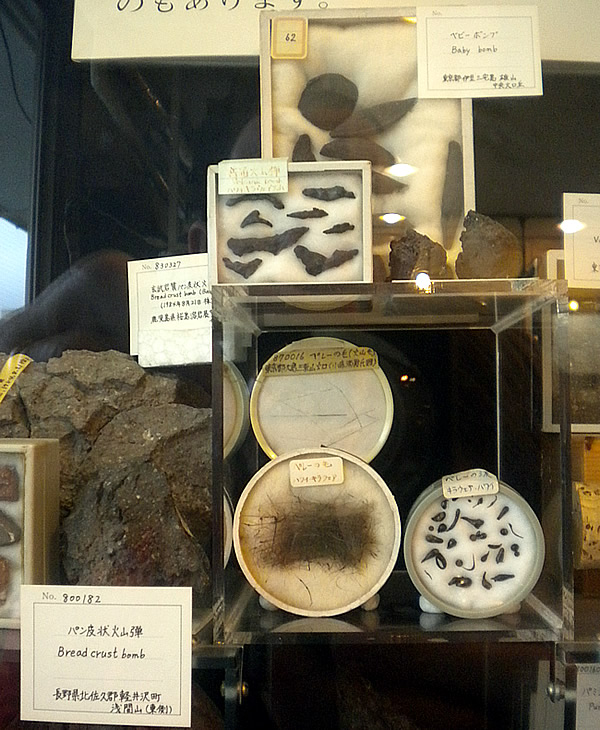 More lava bombs and tektites.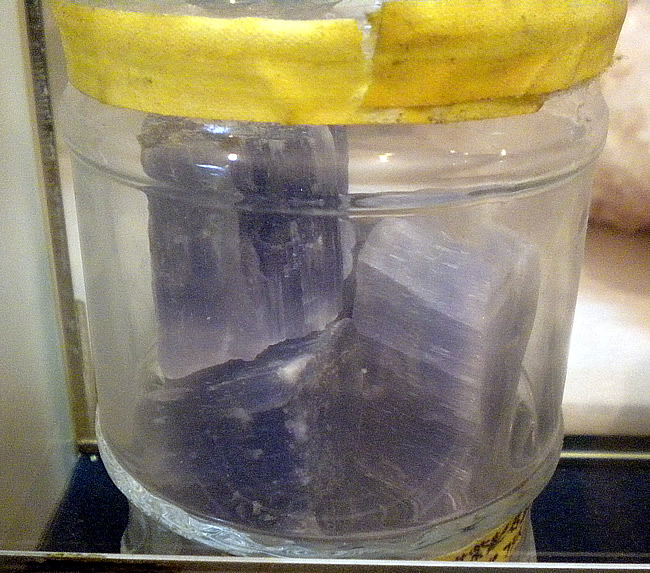 Purple halite. Halite is the mineral person's name for salt.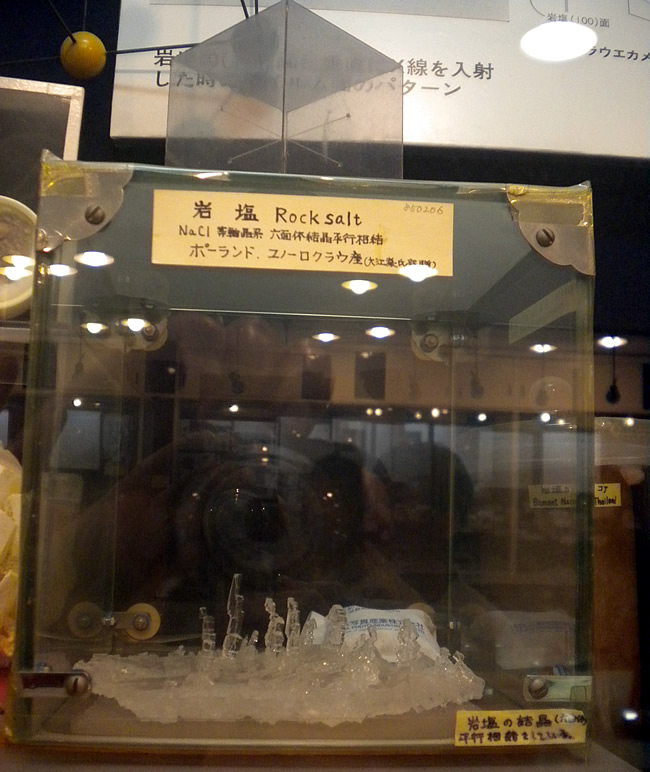 Salt - halite - stalactites.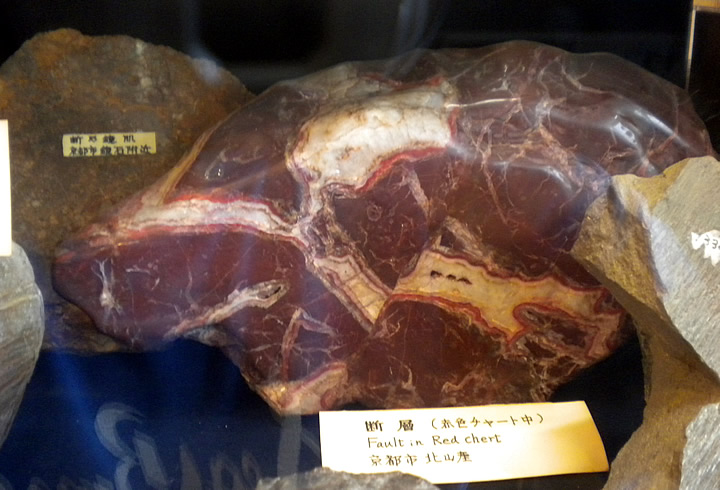 The label says "Fault in red chert" (look at the shift in the white vein, higher on the right half), but doesn't this look like a cut of Kobe beef? As a total non-sequitur, we never had actual Kobe beef, but we did have other local beef (raw & cooked) that was so tasty, it took weeks to adjust back to the US version of beef.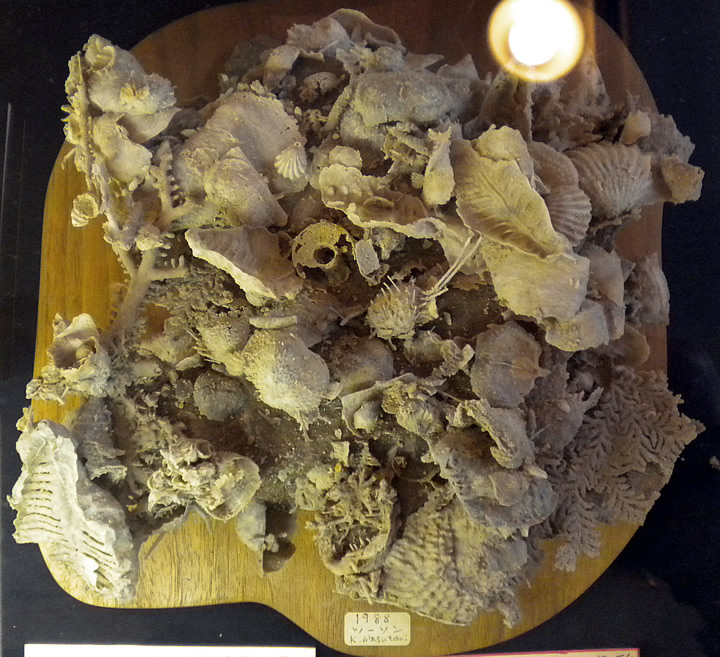 An entire fossil collection in one piece. The museum has a lot of fossils, but since I know less about them than rocks, I mostly took photos of the rocks - my apologies to all you old fossil-heads out there.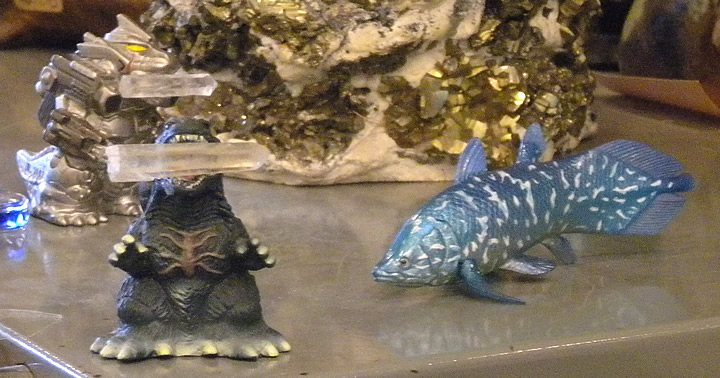 Godzilla chomping on a quartz crystal, flanked by another monster (perhaps Rodan?) with a quartz crystal weapon, and a plastic Coelacanth (a prehistoric fish once thought to be extinct, but found living in modern times).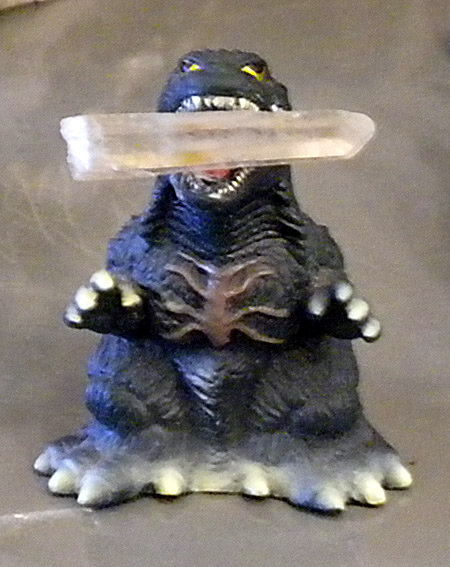 No visit to Japan is complete without a good Godzilla photo opportunity.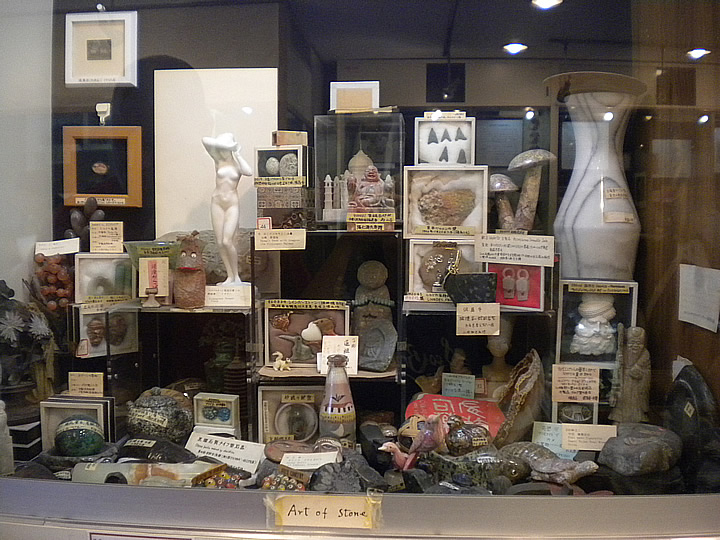 The "Art of Stone" display case, an interesting category choice for the arrowheads.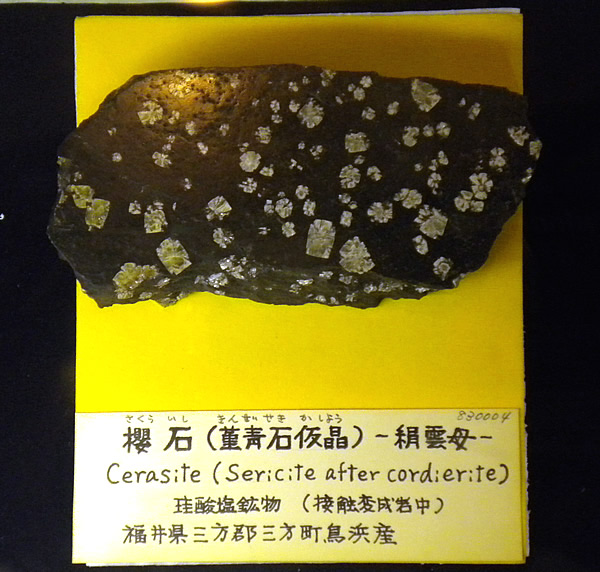 A cool pseudomorph (muscovite ps cordierite) unique to Japan that looks remarkably like cherry blossoms.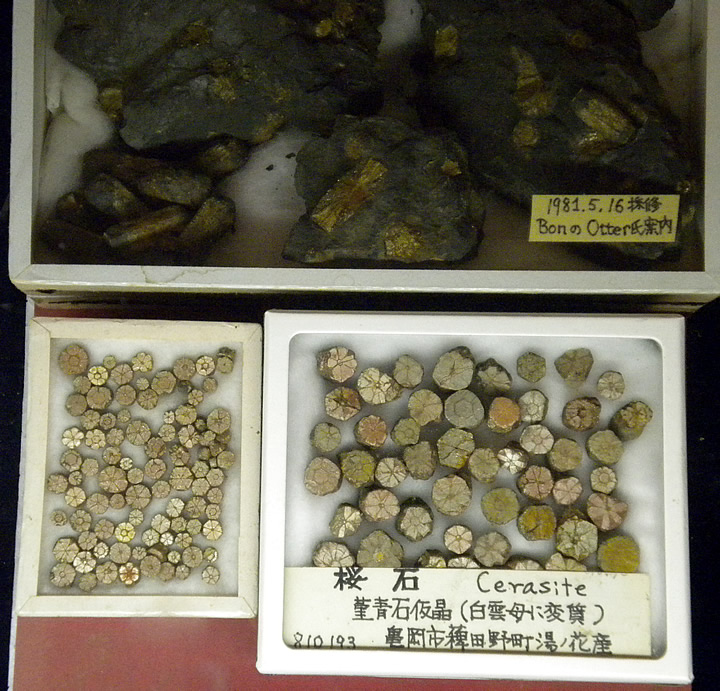 Loose cerasite crystals of a more cherry-blossom-like appearance.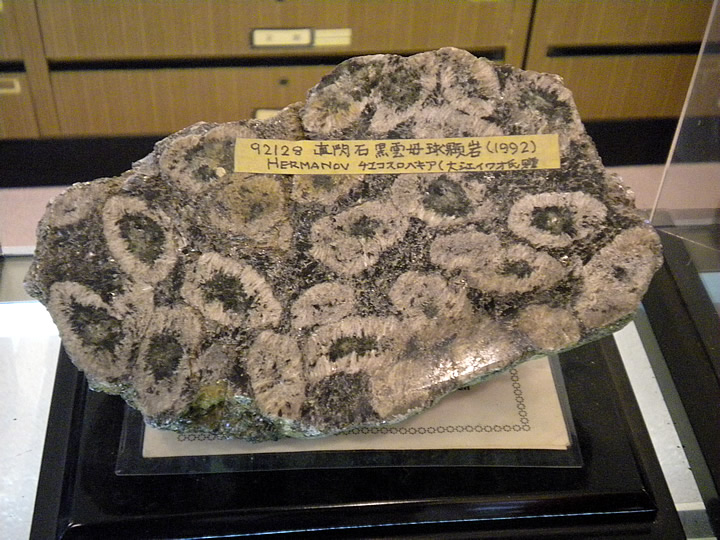 "Hermanov spheres" - Cream colored fibrous anthophyllite spheres with brown phlogopite cores in matrix.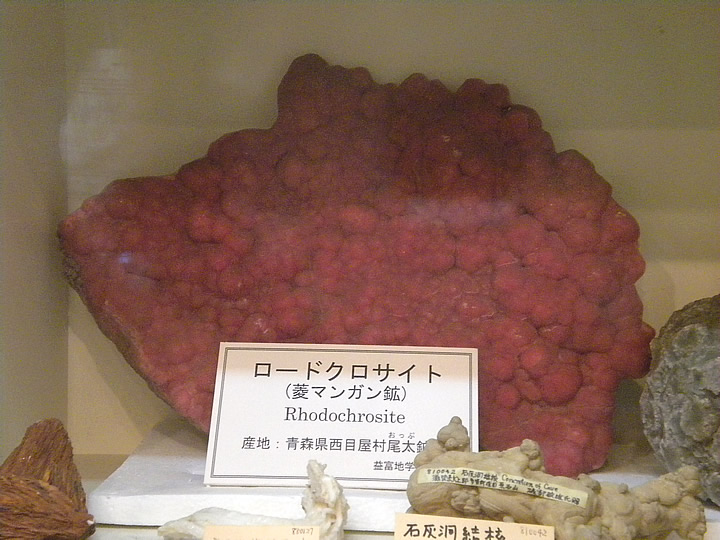 Japan is famous for its beautiful red rhodochrosite. A piece of this size would be the prize of any collection.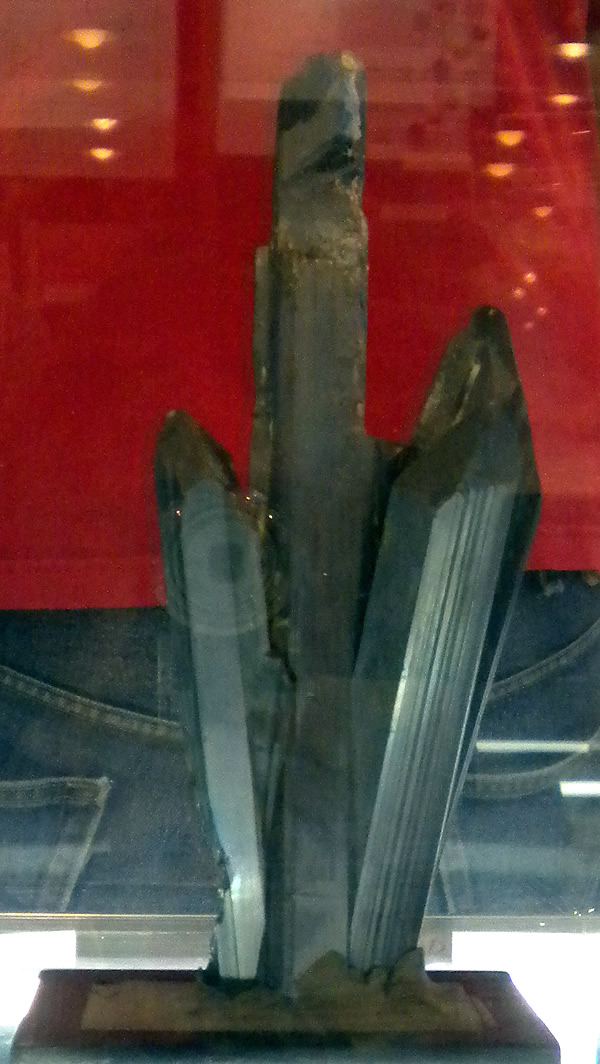 Japan is equally famous for its spear-like metallic stibnite crystals.
For 2 more pages of mineral photos from the glorious Masutomi Geology Museum, CLICK HERE.
If you've had enough minerals, continue on below.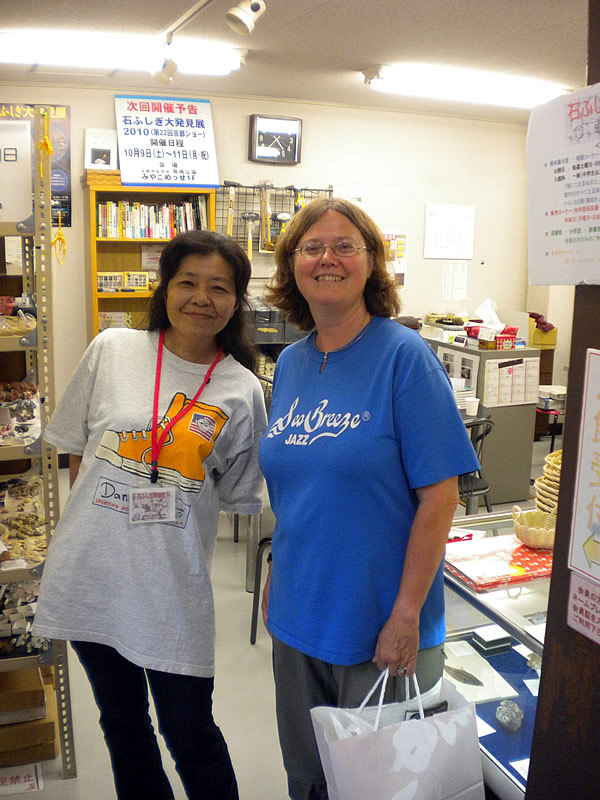 Kumiko Himori, an organizer of the Osaka Wonder-World of Stones and an employee of the museum, and me with my bag full of books & rocks, as Russ & I reluctantly prepare to depart the awesome Masutomi Geology Museum.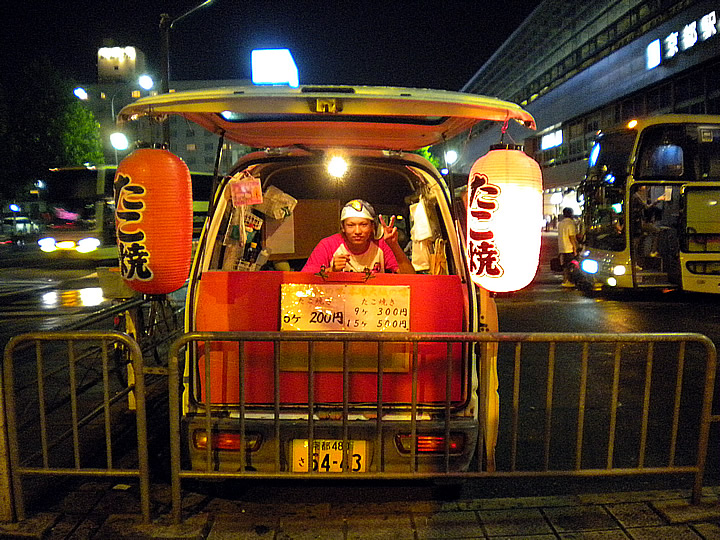 As I mentioned above, tako-yaki (deep-fried octopus dumplings) are a much cherished comfort food for Kyoto's residents, so I was not too surprised to see a mobile vendor parked at the train station upon our evening return. I told him I had already eaten, but tako-yaki are "totemo oishii" (very tasty), whereupon he signaled his approval.

or skip to
Nara Osaka Takayama Mt. Fuji Tokyo