Mineral Gallery 4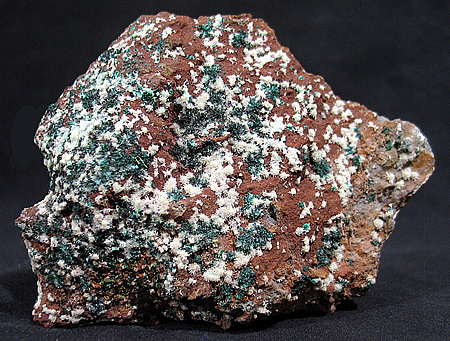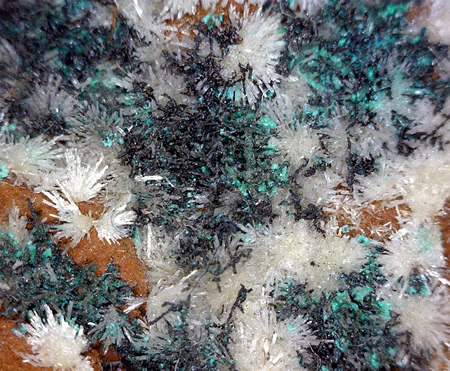 click on images for larger views FOV = 6 x 5 mm
ACM8-1 Aragonite and Copper $140
Tsumeb Mine, Tsumeb, Otjikoto Region, Namibia

11.8 cm x 8.7 cm x 3.0 cm
A strikingly beautiful piece with rosettes of Aragonite (CaCO3) and arborescent Copper against a contrasting matrix. Although the label that came with this piece says Aragonite, Copper and Malachite, under the microscope, the Malachite turns out to be oxidized Copper as far as I can see. Without the help of a microscope or loupe, I would never have doubted the presence of Malachite, so in a way analogous to optical or auditory illusions, this is a mineral illusion; our brains fill in what they "know" is there.


click on images for larger views image on right is 22 x 20 mm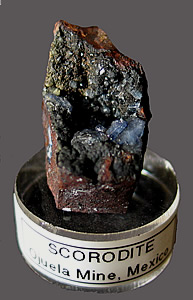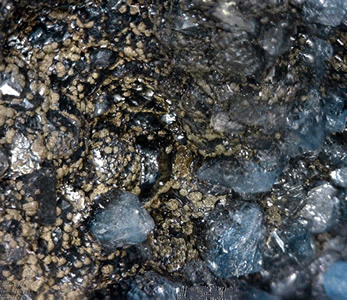 click on images for larger views image on right is 7 x 6 mm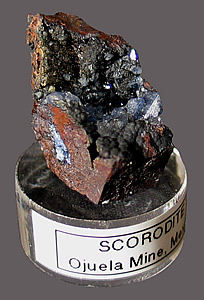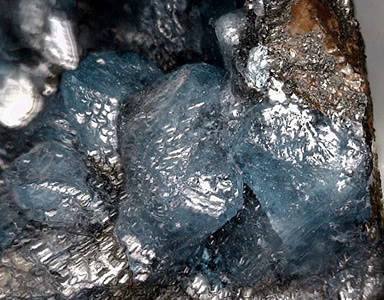 click on images for larger views image on right is 8 x 6 mm
SCOR6-2 Scorodite $350 SOLD
San Judas chimney, level 6, Ojuela Mine, Mapimí, Mun. de Mapimí, Durango, Mexico

2.7 cm x 2.2 cm x 1.5 cm; largest crystal 5 mm
Collected by Mike New in 1981, Scorodite (Fe3+AsO2· 2H2O) was found in only one pocket near the famous purple Adamites. Scorodite is thus one of the rarest species from this famous mine, and the Ojuela Mine is one of the rarest locations for this famous species. The crystals in this specimen coat the inside of a small vug in a goethite-limonite matrix, and some are covered with yellow-brown patches (see the 2nd row, right-hand-side photo) of what is most likely Beudantite (PbFe3[(OH)6|SO4|AsO4]) .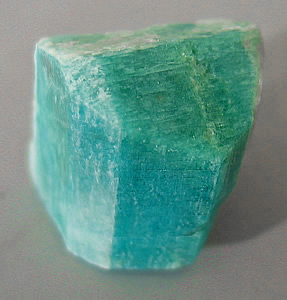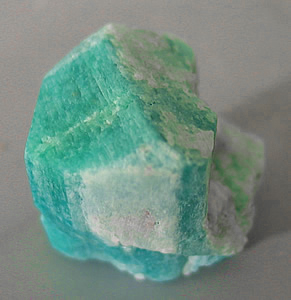 click on images for larger views
AMAZ9-2 Microcline var. Amazonite $18
Smoky Hawk claim, Crystal Peak area, Teller Co., Colorado

2.5 cm x 2.2 cm x 2.2 cm
Amazonites can show preferential coloration, with white on some faces. This piece has a partial white overgrowth on one face and a bit on the opposite face as well.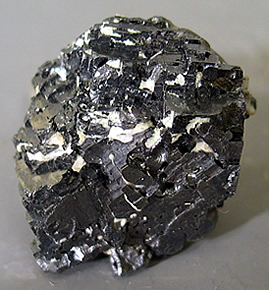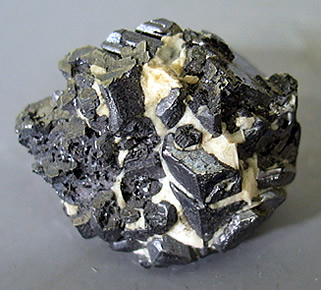 click on images for larger views
GAL9-11 Galena with Calcite $25 SOLD
Huanzala Mine, Huallanca District, Dos de Mayo Province
Huánuco Department, Peru


3.5 cm x 2.8 cm x 1.8 cm
One side (left photo) of this Galena (PbS) specimen shows complex cubic habit while the other side (right photo) displays some pseudo-hexagonal forms separated by Calcite (CaCO3).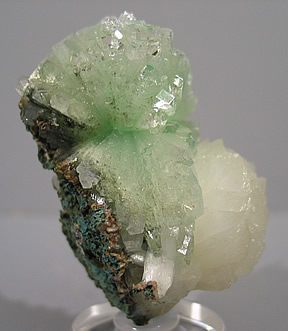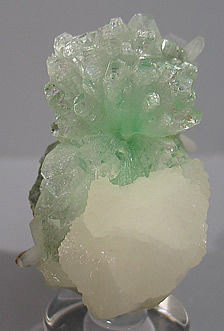 left view of specimen front view of specimen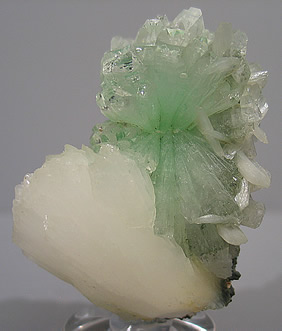 right view - click on image for larger view
FLAP8-3 Three-Sided Fluorapophyllite Flower with Stilbite $725

Rahuri, Ahmadnagar District, Maharashtra, India

5 cm x 6.6 cm x 4 cm
Indian minerals have set a new standard for beauty, but it can be hard to come up with something unique. This piece is the only multiple flower I have ever seen. There is an Apophyllite flower on the left, front and right. A very thin layer of matrix lines the back with a bit of green mineral, probably Celadonite, that has been slightly incorporated into the Apophyllite and Stilbite. I have mounted the piece onto a cylindrical piece of acrylic for display, but I can remove it if you wish. This is the finest Indian specimen I have posted to my website; it will definitely make your Indian mineral collection stand out from the ordinary.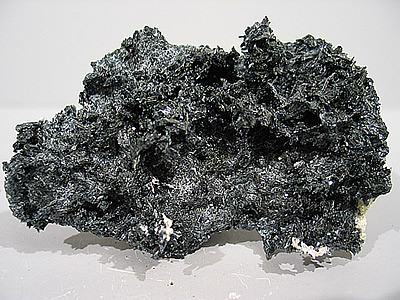 click on image for larger view
GLAU9-2 Glaucophane $85 SOLD

Mount Mucrone, Biella Province, Piedmont, Italy

9.5 cm x 5.5 cm x 2.5 cm
A sparkling, hand-sized sample of the rare mineral Glaucophane ([Na2][Mg3Al2][(OH)2|Si8O22]) from an unusual Italian locality.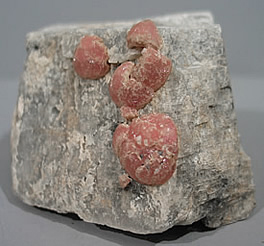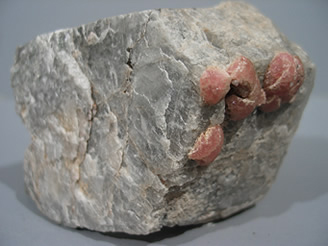 click on image for larger view
ELBA5-6 Elbaite on Feldspar $140

Mogok, Mandalay Division, Myanmar (Burma)

5.9 cm x 4.5 cm x 8 cm; largest ball = 1.7 cm across
Pink Elbaite [Na][(Li,Al)3][Al6][(OH)3|OH|(BO3)3|Si6O18]"mushrooms" growing on a chunky Feldspar matrix. This unusual habit of Tourmaline caused a lot of excitement when they appeared several years ago. The color on this one is a further departure from the norm, most having been darker. Finally, to come with such a nice piece of matrix further distinguishes this Elbaite from the crowd, because very few Burmese Tourmalines come to us collectors on matrix, and when they do, they are most often on Quartz, not Feldspar. A fascinating piece for the Tourmaline or Feldspar collector.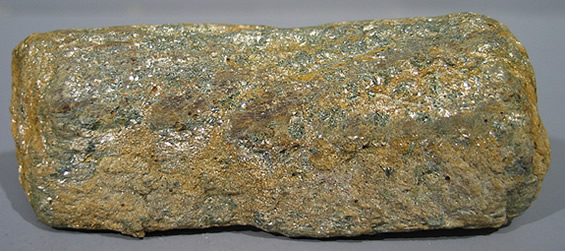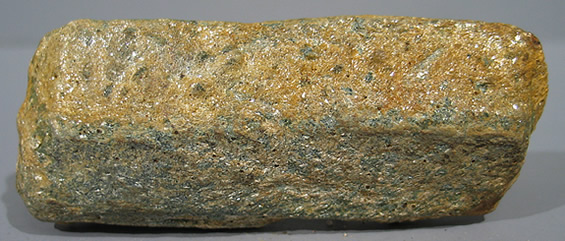 click on image for larger view
STAU5-1 Staurolite $35
Fannin County, Georgia

9.8 cm x 3.7 cm x 2 cm
Everybody is familiar with the Staurolite twins from Russia, usually in the shape of a cross, sometimes in the shape of an X. But here we have a large and quite pretty example of an untwinned Staurolite (Fe2+,Mg,Zn)1.5-2Al9[O6|(OH,O)2|(SiO4)4] floater crystal from Georgia, ironically harder to find these days than the Russian ones, even in the USA.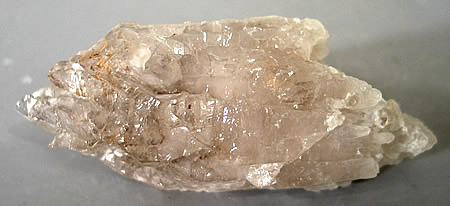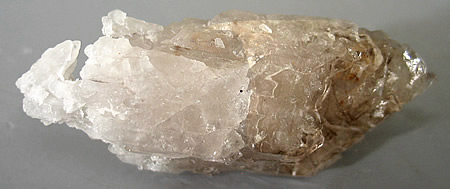 click on images for larger views

Q10-30 Quartz (Doubly-Terminated) $48
Banská Štiavnica Mining District, Štiavnica Mts, Banská Bystrica Region, Slovakia

7.8 cm x 3.0 cm x 2.8 cm
Aesthetic doubly-terminated Quartz (SiO2) from an unusual locality. The core crystal is enveloped by smaller, DT, parallel-growth crystals in such a manner that the cross-section remains hexagonal. Half of the specimen is slightly smoky and clear, while the other half is milky and etched. A fascinating specimen.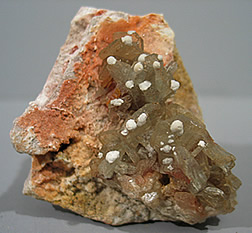 click on image for larger view
BAR5-20 Calcite on Barite $55 SOLD

Sa Corona 'e Sa Craba grotto, Barbusi, Carbonia, Carbonia-Iglesias Province, Sardinia, Italy

6.5 cm x 6.1 cm x 5 cm; Barite crystals to 1.5 cm
Balls of white Calcite (CaCO3) on blades of Barite (BaSO4) from an obscure Italian locality. Iron staining on the matrix adds some color. The back has a druze of small clear crystals.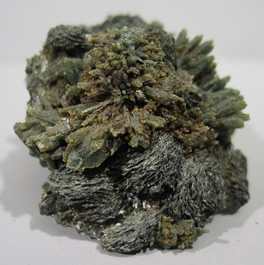 left side center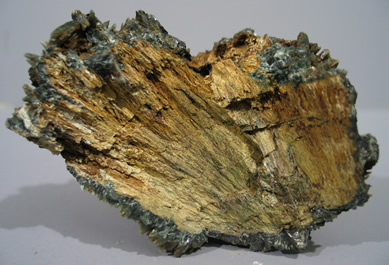 bottom - click on image for larger view
Q9-4 Hematite Roses on Quartz with Hedenbergite $120

Mega Xhorio, Seriphos, Cyclades,
Kykládes Prefecture, Aiyaíon Department, Greece

9.3 cm x 6.5 cm x 4.5 cm; roses up to 1.5 cm across
This is a Greek classic: green Hedenbergite-included Quartz dotted with several metallic Hematite (Fe2O3) roses on a matrix of fibrous Hedenbergite (CaFe2+[Si2O6]) that visually resembles wood. It is not that common to find the Mega Xhorio Hedenbergite-included Quartzes associated with Hematite roses, so this is a real bonus.