Sold Specimens, Gallery L
Galleries of Sold Specimens:
A B C D E F G H I J K L M N O P Q R S T U V W XY Z
Agates Sold Calcites Sold Mont St-Hilaire Sold

NOTE: Lamprophyllite and Lorenzenite from Mont St-Hilaire
have been moved to Mont St-Hilaire Sold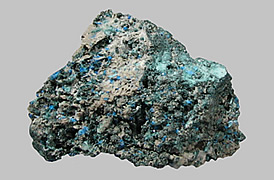 click on image for larger view
LAMM8-1 Lammerite with Lemanskiite (TL) $75 SOLD

El Guanaco Mine, Guanaco, Santa Catalina
Antofagasta Province, Antofagasta Region, Chile

5.1 cm x 3.8 cm x 2.8 cm
Green Lammerite (Cu3[AsO4]2) crystals with blue Lemanskiite (NaCaCu5[Cl|(AsO4)4] • 5H2O), the latter from its type locality. This specimen displays two extremely rare minerals.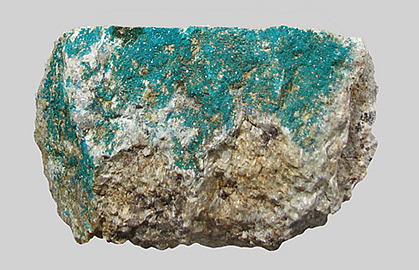 click on image for larger view
LANG8-1 Langite $35 SOLD

Podlipa and Reinera Mines, Lubietová ore belt
W. Slovenské Rudohorie Mts, Banská Bystrica Region, Slovakia

6 cm x 3.7 cm x 1.5 cm
There doesn't seem to be any locality that produces crystals of turquoise-blue Langite (Cu4[(OH)6|SO4] • 2H2O) any bigger than a few millimeters; so this specimen with its rich, sparkly coating of sub-millimeter crystals is a good representative example. Langite is a secondary copper mineral formed from the oxidation of copper sulfides.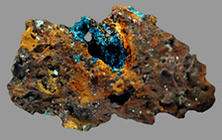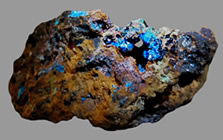 click on image for larger view
LAV9-1 Lavendulan $95 SOLD

Dolores prospect, Pastrana, Mazarrón-Águilas, Murcia, Spain

4.2 cm x 2.8 cm x 1.8 cm
This specimen features a large vug filled with bright blue crystals of the rare copper arsenate, Lavendulan (NaCaCu5[Cl|(AsO4)4] · 5H2O), as well as a bridge of Lavendulan going from one side of the vug to the other, best seen in the detail photo on the right. The color was hard to capture - it is closest in the first photo.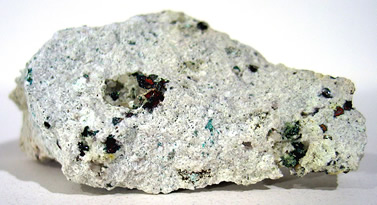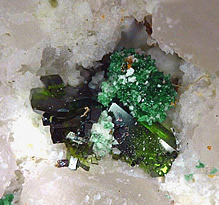 click on images for larger views image on right is 3 x 3 mm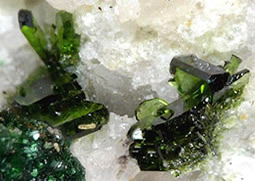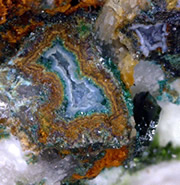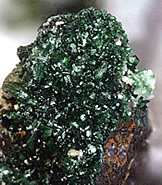 left image is 2 x 1.5 mm center image is 2 x 2 mm right image is 0.9 x 1 mm
LIND9-1 Lindgrenite and Brochantite $45 SOLD
San Samuel Mine, Carrera Pinto, Cachiyuyo de Llampos district, Copiapó Province, Atacama Region, Chile
7.2 cm x 3.7 cm x 3.0 cm; largest Lindgrenites ~ 1 mm
Olive-green, tabular Lindgrenites (Cu3[OH|MoO4]2, lower left photo) inhabit vugs with small, equant, green Brochantites (Cu4[(OH)6|SO4], lower right photo). The upper right photo shows both of them together. The center bottom photo looks like a Chrysocolla-lined geode, and was a bit of a surprise to find as I scanned this piece with the microscope! I asked Terry Szenics (who found this material in 1996-97) about the identification of the minerals on this piece, and he wrote, "This lindgrenite is probably the best well-formed xls.+most abundant amount of lindgrenite around. The original Chuquicamata lindgrenite from the 1930's is hard to find today and not as well xlized." So although this is not type locality (i.e., Chuquicamata) material, it is a fine example of Lindgrenite crystals.


click on image for larger view
LOP8-1 Loparite-Ce $65 SOLD

N'orkpakhk Mt, Khibiny Massif, Kola Peninsula, Russia

2.6 cm x 1.9 cm x 1 cm
A beautifully twinned Loparite-Ce ((Na,Ce,Ca,Sr,Th)(Ti,Nb,Fe)O3) crystal sits perched on matrix. The interpenetrating cubes are 6 mm on an edge. This specimen comes from a different mountain in the same massif as the type locality. The matrix fluoresces yellow & red.

Galleries of Sold Specimens:
A B C D E F G H I J K L M N O P Q R S T U V W XY Z